Pre-Implementation

| | |
| --- | --- |
| » | Assist clients with efforts to evaluate emerging ERP market trends and incorporate trends into IT/ERP business strategies |
| » | Evaluate ERP vendors/products against client-specific business/IT goals & strategies and provide preferred "short list" |
| » | Provide ERP transition strategy for customers affected by software consolidations or acquisitions (e.g., Oracle's takeover of PeopleSoft) |
| » | Provide ERP consolidation/integration strategy where customer organization is affected by business mergers or takeovers |
| » | Assess ERP platform and business strategies and provide ERP delivery model strategy (e.g., full or partial business process outsourcing, 3rd party hosting, traditional license/support model) |
Be design specification and mapping
»

Document "as is" business processes for requirements definition phase

| | |
| --- | --- |
| › | Develop business process diagrams & identify performance gaps |
| › | Document business policies, procedures & rules |

»

Define, categorize & validate initial business requirements to support ERP software selection

| | |
| --- | --- |
| › | Use facilitated sessions that fully engage key users |
| › | Align requirements with business case & best practices |
| › | Use process decomposition to ensure structured business requirements and functional clarity |

»

Provide post software selection requirements analysis & validation

| | |
| --- | --- |
| › | Review business requirements for clarity, measurability, alignment with business goals & processes |
| › | Validate prioritization & traceability |
| › | Develop test cases & map to requirements |
^Top
Requirements Management
Depending on client needs we utilize 3 main strategies for gathering ERP business requirements.
| | |
| --- | --- |
| » | Requirements-Driven Strategy |
| | a pure requirements-driven strategy focuses on defining all business requirements independent of organizational and technology constraints. This approach is the most widely used method today. This is also the slowest approach to gathering requirements and will require the most time from business users to articulate requirements. We can anticipate gathering non-value-added business requirements that must be filtered through the requirements section process. With additional gaps business stakeholders will have to spend more during Fit/Gap to make decisions. |
| » | Solution-Driven Strategy |
| | On the other end of the spectrum, a pure solution-driven strategy focuses on the gap business requirements (requirements that cannot be met with delivered functionality). This approach is highly popular in for RAPID ERP Implementations. This approach requires the least amount of time from business users; however, business activities must conform to the packaged business software. This could have a significant impact on organizational acceptance and impact because ERP software designs are based upon a market-driven set of requirements and not the specific requirements of an individual customer. |
| » | Configuration-Driven Strategy |
| | The configuration-driven strategy is based upon the premise "The new system needs to do what the existing system does today". It may be a situation where a customer simply needs a replacement system because the existing system is nearing the end of its license and may become decommissioned software. Starting with what the customer knows helps to expedite requirements gathering. Business user time is minimized because IT can provide insight into the existing business system capabilities and configuration. However, this approach will surface requirements based upon existing system limitations as well as legacy non-value-add business requirements. |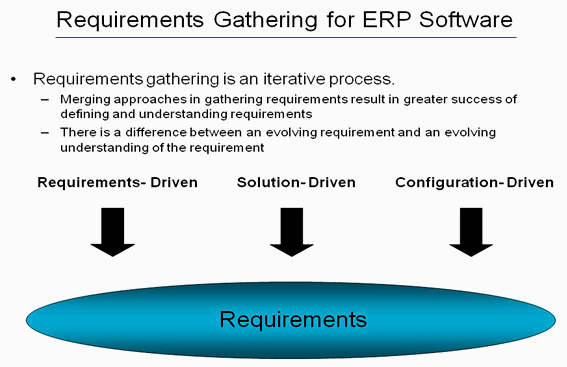 One of the key techniques we use to detect and resolve business requirements conflict is to gather requirements from different perspectives.
Driving to define your business requirements from different perspectives will naturally identify potential conflicts. Starting off with a requirements-driven approach lays the foundation for effective requirements gathering as well as promotes collaboration. Next, taking a solution-driven approach enables the project team to quickly identify the boundaries of the packaged business software. Third, utilizing the configuration-driven approach provides a validation of results from both the requirements-driven and solution-driven activities. And finally taking a results-driven approach ensures that the business results support the desired business results.
^Top
Business Process Re-alignment / Optimization / Reengineering
»

High-level Business Process Optimization (BPO) to support IT/ERP strategy development

| | |
| --- | --- |
| › | Validate/conduct targeted "as is" process analysis |
| › | Conduct opportunity analysis to identify priority BPO targets |
| › | Develop measurement baseline & performance goals for BPO targets |

»

Detailed business process optimization

| | |
| --- | --- |
| › | Conduct top-down business alignment analysis |
| › | Validate/conduct opportunity analysis (identify areas of greatest pain to organization, key noncompliance risks, significant cost reduction opportunities, etc.) |

| | |
| --- | --- |
| › | Work with process leaders & ERP integrator to leverage ERP applications to drive redesign change initiatives, and support deployment |

»

Our BPO approach focuses on end-to-end business processes

»

Our BPO approach goes beyond process components included in ERP solution to optimize process components not addressed by ERP solution
^Top
Vendor Market Analysis
| | |
| --- | --- |
| » | Assist clients with efforts to evaluate emerging ERP market trends and incorporate trends into IT/ERP business strategies |
| » | Evaluate ERP vendors/products against client-specific business/IT goals & strategies and provide preferred "short list" |
| » | Provide ERP transition strategy for customers affected by software consolidations or acquisitions (e.g., Oracle's takeover of PeopleSoft) |
| » | Provide ERP consolidation/integration strategy where customer organization is affected by business mergers or takeovers |
| » | Assess ERP platform and business strategies and provide ERP delivery model strategy (e.g., full or partial business process outsourcing, 3rd party hosting, traditional license/support model) |
^Top